15TH MAP ROOM
INDEX
---
There were 43 Provinces and
4 Military Regions (MR)
in South Vietnam
during the Vietnam War
(Note: I Corps was north and
IV Corps was south)

Provinces and Cities in South Vietnam:

I Corps - Quang Tri, Thua Thien, Quang Nam, Quang Tin, Quang Ngai, Hue, Da Nang
II Corps - Kontum, Binh Dinh, Pleiku, Phu Bon, Phu Yen, Dar Lac, Khanh Hoa, Ninh Thuan, Tuyon Duc, Quang Duc, Lan Dong, Binh Thuan, Can Raah
III Corps - Binh Tuy, Long Khanh, Phou Long, Binh Long, Dinh Duong, Tay Ninh, Hay Hghia, Bien Hao, Phuoc Tuy, Long An, Gia Dinh, Vung Tau, Saigon
IV Corps - Go Cong, Kien Tuong, Kien Phong, Dinh Tuong, Kien Hoa, Vinh Binh, Vinh Long, An Giang, Kion Giang, Chunong Thion, Phong Dinh, Ba Xuyen, An Xuyen, Duc Liou
---
LZ Locations in the 7th Battalion/15th Field Artillery Area of Operations
Note that some locations have more than one grid due to either being large, or having certain unit sections at one area in a Landing Zone.
PLEIKU A.O.
ZA Grid is W. of Pleiku, half way to Cambodian Border, N. to just past Polei Kleng, S. to Plei Me.
ZA 109-273 LZ OASIS 3rd BN, 4th INF DIV AO Forward Fire Base
ZA 109-271 CATECKA TEA PLANTATION 5km W. inter/sect QL's 14 & 19W
ZA 114-275 LZ OASIS AF/THANH AN, Tuttle AF: ZA104-274 - Le Thanh: ZA10-27
ZA 114-670 PLEI MRONG 23km NW Pleiku, 25km SW Kontum SF Camp
ZA 032-934 POLEI KLENG 16km W. Kontum Montgnard Village/SF CIDG Camp
ZA 061-738 LZ BOBBIE or ZA 097-834? 22km SW Kontum
ZA 090-685 VILLAGE
ZA 097-834 FSB PATT 15km WSW Kontum: ( City: AR77-80 )
ZA 163-049 PLEI ME 44 km SSW Pleiku W. off QL14
ZA 182-527 Pleiku Ammo Supply Point, Plei Mrong Rd. 10km NW Pleiku
ZA 184-903 PLEI KLENG Airfield
ZA 195-350 C/7/15th 30 Nov. 68 OPCON 2/8th INF
ZA 18-35 2km W Catecka Airfield Village - Tea Plantation: ZA199-340
ZA 195-685 LZ JOYCE
ZA 202-341 to 351 CATECKA PLEIKU AIRFIELD 10-12km NE Oasis AF
ZA 207-345 "THE STADIUM" Along QL19B 6km WSW intersect
QL19/QL14
ZA 21-35 Catecka Base Camp - Adj. Tea Plant. Aka: "The Stadium"
ZA 204-214 LZ OUTRIDER also ZA 200-170 26km SSW Pleiku
ZA 218-342 PZ MUSTANG III ( PZ = Troop Pick-up Zone )
ZA 220-465 Observation Post 10 7km SW Pleiku, 7km WSW Holloway
ZA 226-535 HQ 42nd ARVN jus S. of Pleiku/Nansteph AF
ZA 228-533 ARTILLERY HILL Camp Enari at one time FB Kelly
ZA 227-840 LZ MARY LOU ZA 027-934: LZ BASS 24km WNW Kontum
ZA 230-354 Camp St. Barbara 3km E. Catecka AF, if 230-534: QL14 S. Pleiku
ZA 230-376 PLEI GAO THONG 7km SSW Camp Enari 4th DIV ORLL
ZA 234-825 VILLAGE
ZA 240-501 Pleiku Heliport 3km NNW Pleiku
ZA 460-245 Le Thanh Dist. HQ's along QL14 22km S. Pleiku
YA Grids: Same area N. & S. as ZA Grids, and W. of ZA grids to the Cambodian Border
YA 841-247 DUC CO QL19W 13km to Cambodia, 55km SW Pleiku
YA 809-234 LZ JEAN 5km SW. of Duc Co
YA 834-178 LZ VERA 8km SE. of Duc Co, Plei Girao Kot, inter/sect Rd's 568/569
YA 844-252 LZ JOAN up to 3km SE. of Duc Co AF
YA 846-249 5th Spec. Forces Camp A-253
YA 902-315 LZ JACKSON HOLE Le Thang 20km WNW LZ Oasis
YA 936-271 CAV. HILL also YA 922-270 8km ENE Duc Co AF, 37km WSW Pleiku
YA 849-257 VILLAGES Duc Co
YA 80-07 to 90-07 IA DRANG VALLEY N. to S.
YA 820-095 LZ MARY Ia Drang Valley, 1st battle 3 Nov. 65
YA 764-326 FSB MARY SOUTH 12km NW DucCo
YA 815-309 LZ KAREN 7km due W. LeThanh, 6km NW DucCo
YA 903-505 LZ BETTY 34 km W/WNW. Pleiku
YA 935-010 LZ X-RAY Ia Drang Valley
YA 943-043 LZ ALBANY Ia Drang Valley 17km W. Plei Me
YA 842-091 LZ VIRGINIA LEE Duc Co
YA 998-217 Tigers Spotted 1-3/69 1/35th Daily Log
YA 999-219 LZ CHARMAINE Tiger assault C/1/35th Inf 30 Jan. 69, 2/9 FA: UFO's!
YA 857-535 LZ PLEI DJERENG "Old" C/7/15th 7/68 36km NW Pleiku 5th SP A-214
YA 850-450 LZ PLEI DJERENG "New"
YA 962-855 LZ BRILLO PAD 10km SW Polei Kleng
YB & ZB Grids: N to NNW of Pleiku
YB 865-255 BEN HET 13km E. Tri-Border, 15km WNW Dak To
YB 895-406 DAK SEANG AF 23km NW DakTo AF, "Ranger Camp"
YB 935-188 FIRE BASE 6 Hill 1001 7km NW Hill 1338
YB 989-152 HILL 1338 6km SSW DakTo II
ZB 060-220 TAN CANH Inter/Sect. QL 14 & Rte 512 to Ben Het
ZB 043-225 DAK TO & Spec. Forces Camp "New" 42km NW Kontum
ZB 05-26? DAK TO Spec. Forces Camp "Old"
ZB 044-024 DAK TO I AF 41 km NW Kontum
ZB 012-216 DAK TO II AF 40km NW Kontum, 3km SW DakTo I
ZB 125-163 LZ MUD 13km SE Dak To 2 AF
AR Grids: East of Pleiku, same as ZA Grids North to South
AR 802-472 CAMP HOLLOWAY N. side of QL19, 4km due E. Pleiku
AR 803-339 HENSEL AIRFIELD at Camp Enari
AR 802-350 CAMP ENARI 13km SSE Pleiku
AR 896-116 WEIGT-DAVIS 37km SSE Pleiku
AR 777-368 DRAGON MTN. Hill1028 NE. Enari 7/15th FA: Target Pract/Arty. Hill
AR 778-899 LZ ATHENA A/7/15th 4-10/71 NE. edge of Kontum
AR 797-348 ARTILLERY HILL in Camp Enari, Pleiku
AR 77-80 KONTUM CITY QL14 35km N. Pleiku
AR 939-480 PUMP STATION 10 used by C/7/15th FA at LZ Blackhawk early 69
AQ Grids: ESE Pleiku, most due south off QL14
AQ 793-026 BAN ME THOUT QL14 50km E. Cambodia, 130km WNW Nha Trang
AQ 883-018 FSB BAN ME THUOT "East" C/7/15th 4/68
AQ 88-99 LZ GRAY QL14 50km SSE Pleiku named: KIA 1LT Gray C/7/15th FA
AQ 868-994 LZ LONELY QL14 7km SSW Phu Nhon: AQ88-99, C/7/15th 4/71
BR Grids: East of Pleiku to Qui Nhon Coastal area. Same as AR Grids North to South. BS Grids: Due South BR Grids
BR 020-510 SOUI DOI 25KM ENE Pleiku near Inter-Sect QL19/QL14 to Kontum
BR 035-535 LZ BLACKHAWK N. side QL19E, 25km ENE Pleiku at Suoi Doi
BR 223-520 MANG YANG PASS QL19 26km WNW AnKhe & W. to Suoi Doi
BR 264-470 LZ ACTION On QL19E MangYang Pass 23km W AnKhe C/7/15th 4/69
BR 27-48 LZ BUFFALO 5km E. MangYang Pass, 3km N. LZ Action
BR 227-529 FRENCH CEMETARY QL19E 15km from AnKhe AF Grp Mob. 100
BR 340-461 OLD FRENCH FORT Grp. Mobile 100 - 25 June 1954
BR 363-457 LZ SCHUELER On QL19E 13km W. AnKhe B/C/7/15th FA 4-10/71
BR 470-480 CAMP RADCLIFF AnKhe "Golf Course" QL19E 60km NW Qui Nhon
BR 477-435 DODGE CITY aka "Sin City" Red-Light Dist., on dirt road tank trail
BR 613-607 LZ HARDTIMES Vinh Thang Valley 20km SE camp Radcliff 7/15th FA
BR 615-643 LZ PLUTO Vinh Thang/Happy Valley 36km NW Phu Cat C/7/15 4/24/68
BR 616-608 LZ JUPITER 23km NE AnKhe ( AN KHE: BR48-43, Pass: BR582-438 )
BR 625-556 HAPPY VALLEY 20km NW AnKhe 22NVA Regt. AO ( also: BR82-65 )
BR 685-420 LZ DIAMONDHEAD Binh Khe 22km ESE AnKhe on QL19E C/7/15 68
BR 745-517 LZ COLT 14km NW PhuCat
BR 80-84 to BR86-77 "506" VALLEY 18km S. Bong Son, 9km W. QL1
BR 808-832 LZ PONY HaTay, just S. inter/sect Rte's 605/TL3A 13km SSW BongSon
BR 846-947 LZ TWO BITS 2km inter/sect QL1 & Hwy 514, adj. to Bong Son AF
BR 851-550 LZ JENNY 38km ENE AnKhe, ROK LZ, C/7/15th FA 5/68
BR 881-005 LZ DOG became LZ English 7km NNE Bong Son
BS 878-015 LZ ENGLISH or BR 879-005 5km NNE Bong Son
BS 883-068 LZ ZAEGER An Lao River Valley N. of LZ English
BS 883-056 LZ NORTH ENGLISH Bong Son N. of LZ ENGLISH
BR 872-958 BONG SON on QL1 75km NNW Qui Nhon VC Valley: 90-93
BR 888-570 LZ HAMMOND W. side QL1, 10km NNW Phu Cat
BR 892-659 LZ CRYSTAL 23km N. Phu Cat AF
BR 896-412 PHU CAT Air Force Base "Bordner Field" 5km SW Phu Cat
BR 90-76 MISS AMERICA MOUNTAIN Range N. & NW. LZ UpLift
BS 900-090 LZ TOM 3km E. of coast, 15km NNE Bong Son A/7/15th FA
BR 915-433 CAMP FIDEL S. edge of PhuCat AF Base
BR 92-50 PHU CAT 32km N Qui Nhon Service-Btry/7/15th FA at W. edge AF
BR 924-752 LZ UPLIFT QL1 ran thru, 12km SSE Bong Son HHB/7/15th FA 1967-69
BR 932-745 DUSTER HILL at ( LZ UpLift: also as BR's 928-775, 927-749, 918-750 )
BR 935-467 LZ LINDA 4km ENE PhuCat AFB C/7/15th FA 5/68
CR Grids: East of BR Grids to E. Coast
CR07-76 HAWKS NEST 2km W. of coast, 28km SE Bong Son near LZ UpLift
CR 080-230 QUI NHON on E. coast, 28km SEe PhuCat, 64km ESE AnKhe
CR 0-2 RED BEACH in Qui Nhon on coast, In-Country R&R Center
CP Grids: Due South of CR Grids, along E. Coast
CP 00-15 CAM RANH BAY 32km S Nha Trang, Major US Installation
CP 042-534 NHA TRANG 1FFV HQ 24km N. Cam Ranh Bay
CP 05-32 22nd REPLACEMENT CENTER
CP 053-322 6th CONVALESCENT HOSP. 1300 Bed, 44th Med. Bde. 1968
Miscellaneous & Numbered Locations
AR 804-470 71st EVAC. HOSPITAL, 4th ID AO, Pleiku AF Base 11/66-12/70
CR 080-230 85th EVAC. HOSP. Qui Nhon Aug. 65-69 at Phu Bai 69-71
BS 72-23 to BR 80-90 AN LAO VALLEY then NE to Bong Son to Ocean
BR 96-36 AN NHON 18km NW Qui Nhon
BR 130-307 BASE 202 NVA/ "VC Valley" Staging Area 40 km WSW AnKhe
1st CAV HQ's: AnKhe Sept. 1966 - Apr. 1969
4th INF DIV AO: Pleiku Upper Highlands Sept. 68 - Dec. 70 & AnKhe
173rd ABN: AnKhe Nov. 67 - Apr. 69
ROK Republic of Korea 1st Tiger DIV BR/BQ/CR/CQ Grids 61st Arty Binh Khe
Most Grid Coordinates taken from "M-60" Mike Kelley's Book: "Where We Were In Vietnam" [$39.95 at amazon.com] and various unit daily logs, archives, and history references including Firebases and LZ's by 15th Historian Dan Gillotti.
---
"A" & "Z" Map Grids are NOT Like Others!
By Dave Holdorf
The 108 degree East longitude line separates the ZA and AR grids in the Pleiku area, likewise the ZB and AS grids to the north in the Kontum area. These are the ONLY grids in Vietnam, "A" & "Z", for the entire length of Vietnam, that are ONLY 20 to 30 kilometers in width!
However, you still use the same system to figure out "Where You Were!" ….BUT you must take this into consideration: The locations in the grids are found using imaginary boundaries as IF they were the same as all the rest in Vietnam. Without going into detail, just think of them as normal 100 kilometer girds overlapping without being able to see the entire grid.
THUS: The "First" 3 numbers indicating East-to-West in "Z" grids never begin with a number larger than "2"! Those range from for instance, ZA000-??? to ZA299-??? Imagine the width of that zone as (3) three digits wide vs 10 as the others are.
The "First" 3 numbers indicating East-to-West in "A" grids never start w/a number lower than "7". Those range from for instance, AR700-??? to AR999-??? Again, imagine three digits wide.
The "Second" three numbers, North to South coordinates, are the same as all the rest in these two grid zones…100 kilometers and broken into 10 equal areas/digits.
---

Locations of 7/15th FA Batteries
May 1968 - May 1969
| | |
| --- | --- |
| HHB | LZ Uplift |
| Service Battery | Phu Cat |
| 'A' Battery | LZ Tom |
| 'B' Battery | Artillery Hill, LZ Uplift, Polei Kleng, LZ Schueller |
| 'C' Battery | LZ Diamondhead ("hipshoots" to LZ Pony, Jenny, Linda), Artillery Hill, LZ Oasis, Duc Co, Plei Djereng, LZ Blackhawk, LZ Action |
---
7-15th Field Artillery Revised Vietnam Maps
By Dave "Davo" Holdorf
After many years using our first draft maps in which we asked our Vets to place the LZ's we were at, we've re-drawn the original using grid coordinates. We believe this map reflects a more exact location of all LZ's. Follow the RED line from the LZ Name to the RED DOT, that's the exact location as per grid numbers.
In addition, we've split the entire Nam map into two sections for better and larger viewing. Grid LINES and grid ZONES have been added in RED. The map is SPLIT at the center horizontally, the Grid Line that separates ie: Zones BR & BQ.
You can use the other maps in the map room to help locate specific areas. Just read the how-to on using Grid Line Coordinates, and go from there.
Most of the LZ's listed are those used by the 7/15th FA. If you want a great book for finding "YOUR" LZ's, cities, hamlets and roads using grid locations, we suggest Mike Kelley's "Where We Were in Vietnam."

---
Map credit: John McCarthy, Jr.
(Also see: List of Firebases, LZ's and Base Camps)
---
Sayings...
There was a Vietnamese saying about
Vietnam concerning military strategy:

"Whoever controls Highway 19 controls the Highlands,
and whoever controls the Highlands controls Vietnam."
It's no wonder then that the "Eastertide Offensive" in 1973, and the final offensive in 1975, struck at the heart of the Central Highlands, in the 7/15th's former Area of Operations (AO).
---
Enemy Units:
In April of 1971, seven months before the 7/15th deactivated, the major enemy units reportedly located within or on the boundaries of the 7/15th AO are listed below:
| | | |
| --- | --- | --- |
| UNIT | ESTIMATED STRENGTH | REPORTED LOCATION |
| 66th NVA Regt | 1800 | Tri-Border |
| 7th Bn / 66th Regt | 300 | YB9318 |
| 8th Bn / 66th Regt | 300 | YB9318 |
| 9th Bn / 66th Regt | 300 | YB9318 |
| K-37 Sapper Bn | 200 | ZB062225 |
| 401st LF Sapper Bn | 200 | AQ3582 |
| K-32 Bn / 40th NVA Regt | 200 | AQ821839 |
| 408th Sapper Bn | 200 | BR2541 |
| K-31 / 95B | 400 | AQ8098 |
| K2 / 95B | 300 | BR1340 |
| 8th LF Bn | 600 | BS801089 |
| K-16th Bn / 40th Arty Regt | 300 | YB853247 |
| K-20 Sapper Bn | 200 | ZA1996 |
| 406th Sapper Bn | 200 | ZB2105 |
| 28th Regt | 1800 | YB8554 |
| 28th Sapper Bn | 200 | YB8554 |
| K-30 / 40th Arty Regt | 300 | YB8344 |
Major US Army Unit Locations
Summer 1969
(from "UPTIGHT" magazine)
(Click thumbnail image of map to enlarge)
---
Simplified Military Map Reading
By Dave "Davo" Holdorf
Trying to find that LZ or exact location you were in?
With the right maps and info, it's really not that hard!
Most maps that were used in Vietnam by the military are those that have "Grids" laid over them. LZ's and other locations are usually given by "Grid Numbers". The Grid Number Location for AnKhe is BR477435.
The exact location can be found using a Vietnam map that has the "BR" grid shown as an over-lay. Using other maps in this folder, I've drawn the grid over-lay in red lines on the map shown below. Keep in mind that the grid lines are NOT the normal longitude or latitude lines that normally appear on maps.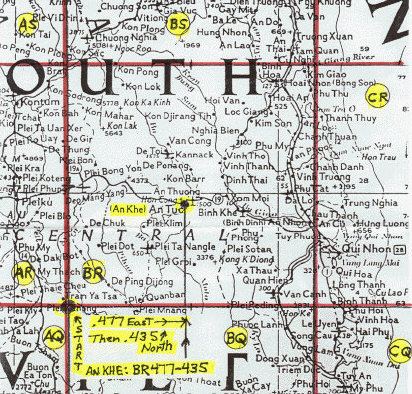 So let's find the exact location of An Khe using a Military Grid over-lay. Notice that there are two vertical and two horizontal red lines on the map. I've tried to draw them as close as possible as they really are. See the RED letters "BR" indicating that the BR Grid is within the four red lines. There are also 8 other grids marked in red that surround the BR Grid.
ALL Vietnam grids use the same location method. All use the South-West corner of the grid to start the location method. In the case of locating An Khe, you start at the lower left corner of BR Grid which is located where all the grids AR, BR, AQ, & BQ meet at the large black dot at the city of Plei Kanong.
No matter what size map you're using, imagine each side of the square grid as equaling 10 equal distances. Then give each section an amount or value of 100 linear parts. In which case, each side is equal to the number of 1000. A half-way point on any grid side is equal to 500. You can make a scale for your size map to make things easier.
An Khe is located at BR477435, which is actually BR 477-435. The first two letters are the grid, the first ( 3 ) three numbers are the ( E ) East coordinates, the last or second ( 3 ) three numbers are the ( N ) North coordinates.
Starting at the SW corner on the bottom BR Grid line ( Plei Kanong ), move along the bottom grid line to the right, DUE EAST for a distance of .477 of the entire line, or just about half way to the far right grid line. This is the East coordinate of BR477. Then from that location, move up, or DUE NORTH for a distance of .435 of the entire distance between the top and bottom lines. This is the North coordinate of the last three numbers of BR477-435. Pretty simple stuff when you know the method. The hardest part is to properly locate the grid over an existing map, so that you start in the correct spot.
Once you located the first LZ or city, it's then easy to find the other locations by the values given within the grid. A value lower than .477 in the first three digits of the number would be farther West, a higher value than .477 would be farther East. A higher value in the last three digits of the grid coordinate would be farther North, a lower value of the last three digits farther South.
Mike Kelley's new book "Where We Were in Vietnam" [$39.95 at amazon.com] is a great book that gives locations for most areas of the Vietnam War.
Also see our large on-site page compiled by Dan Gillotti - Firebases & LZ's.
---
"Where We Were" April 1968 to April 1969
C-Battery, 7th BN, 15th Field Artillery
by Dave "Davo" Holdorf
This article will focus on the locations and information during my tour 5 Apr. 68 to 5 Apr 69. Additional "exact" information as to pre-Apr. 1968 can be obtained from Michael Donley, who served with C-Btry. from the Unit's landing in Qui Nhon June 1967 to March 1968 when he was transferred to the C/5/22nd FA.
Upon arriving in Vietnam, C-Btry. was located at base camp Phu Cat with the rest of the unit. The battery fired the BN's first round on 16 July 67 at Binh Khe.
C-Btry. was GS
( General Support ) ( - ) as a spilt Battery to 1st Air Cav., and the ROK Tiger Div. at various LZ's in the BR Grid "Coastal Region" to include LZ English BS 878-015 and LZ Pony BR 801-829.
1 July 67 : C-Btry. at Phu Cat w/Unit to set up base-camp, "Service Battery".
July/Aug. 67 : C-Btry. completes mission at Svc-btry., displaces to LZ Pony.
4 Sept. 67 : C-Btry. 4th Gun Section fires 10,000th round.
31 Sept. 67 : GS ( - ) 2nd & 3rd Platoon Gun-Sections s at LZ Pony, Two ( 2 ) at Binh Khe …I assume that to be LZ Diamondhead.
5 Nov. 67 : C-Btry. ( - ) retubed to 175mm at LZ Pony interdicting the area of Kon River Valley vic BR70-65.
30 Nov. 67 : C-Btry. ( - ) displaced to LZ Jupiter BR 616-608, and returned to Binh Khe on 1 Dec. 67.
5 Jan. 68 : C-Btry. ( - ) displaced to vic BR 985-447
7 Jan. 68 : C-Btry. ( - ) LZ Pony 175mm Platoon displaced to LZ Jenny BR 851-550.
9 Jan. 68 : C-Btry. ( - ) retubed to 8-Inch, both platoons displaced to LZ Linda BR 935-467.
15 Jan. 68 : C-Btry. displaced to LZ Uplift BR 928-775, mission of GSR - 1st Air Cav. Arty.
17 Jan. 68 : C-Btry. displaced to LZ English BS 878-015
27 Jan. 68 : C-btry. One ( 1 ) platoon displaced to LZ Jenny BR 616-608, ROK Oper., and returned to LZ English the same day.
31 Jan. 68 : C-Btry at LZ English at TET
2 Feb. 68 : C-Btry. experiences the BN's first Vietnam War casualty: Timothy Lee White.
28 Feb. 68 : C-Btry. displaces to An Khe for a short fire mission, then on to Pleiku.
3 Mar. 68 : C-Btry. displaces to 30k's North of Ban Me Thout on Hwy 14, firing numerous missions, "Hip-Shoot" style over a period of a few days, in support of 1/12th Task force…then displaced to Ban Me Thuot "East" AQ 883-018.
22 Apr.68 : C-Btry. displaces toward LZ Diamondhead via Plieku…near end 6wks Oper. Plus. 20k's North of Ban Me Thuot C-Btry. fires another mission for 1/12th Task Force.
23 Apr. 68 : C-Btry. displaces to LZ Diamondhead. End of Operation Plus.
24 Apr. 68 : C-Btry. displaces to LZ Pluto BR 615-643 "Happy Valley".
29 Apr. 68 : C-Btry. displaces to LZ Diamondhead, one howitzer hitting a command detonated land mine 1030hrs. 1530 hrs damaged gun repaired and made it to LZ Diamondhead.
May to late June 68, C-Btry. LZ Diamondhead w/missions to LZ's Linda and Jenny "ROK"
Approx. July to Aug. 68 : C-Btry. at Artillery Hill AR797-348, Pleiku, w/GS ( - ) "Hip-Shoot" mission to Kontum and C-Btry. displaced to Plei Djereng YA 85-45. 4th INF DIV Area of Oper's.
Approx. Sept. 68 : C-Btry. displaces to LZ Oasis ZA 114-275. Btry. Oper'd at LZ Oasis to Approx. Feb. 69. While there, unit experienced sapper's infiltrating perimeter. Several VC KIA'd.
9 Oct. 68 : C-Btry. displaces to LZ Joan YA 845-252 Duc Co. GS 1/35th INF, 4th INF DIV.
19 Oct. 68 : C-Btry. displaces to LZ Oasis.
15 Nov. 68 : C-Btry. 2-548's sent to LZ Vera YA834-178 to pull damaged guns from B/1/92nd FA which had extensive damage and casualties in two days of fighting.
16 Nov. 68 : C-Btry. ( - ) displaces to LZ Joan, Duc Co. While in convoy 1400hrs a command
detonated land mine blows in between a 5-ton truck "pushing" and an FDC track vehicle that had a generator belt come off. Injured: FDC Sgt. Timothy J. Haslett, and Mechanic David E. Holdorf.
It's believed the "Red Team" Troop C, 7/17th Air Cav. Cobra Gun-ships parked at LZ Oasis cleared the area minutes latter via rocket/mini-gun fire, to bring in the 283rd HEL AMB Medivac's working the area. Both men were evac'd to 4th Med. Bn. Mash unit at LZ Oasis, then to 71st Evac. Hosp. Pleiku AF Base. Tim was sent to Japan, then state-side. Dave went to Cam Ranh Bay 6th Convalescent Hosp., returned to C-Btry in late Jan. 69. Oper. "Commando Hunt" in Laos begins.
25 Nov. 68 : 1/14th INF "Golden Dragons" joins Operation Binh Tay-MacArthur at LZ's Vera and Jean YA 809-232, Duc Co, close to LZ Joan. Much enemy activity in the area.
30 Nov. 68 : C-Btry ( - ) displaces to grid ZA 195-350 OPCON to 1/8 INF in the area of LZ Oasis, at Cateka Tea Plantation.
Dec. 68 to late Jan. 69: C-btry. at LZ Oasis. Ground radar units were installed previously. At some time during this period, one tube C/7/15th FA was attached to 6/29th FA who's Operation was in the Kontum/Dak To Plei Mrong/Polei Kleng areas in mid-Jan. 69, LZ Action in Feb. 69.
Approx. mid-Feb. 69 : C-btry. displaces to LZ Blackhawk BR 035-535 Soui Doi. While there, occasional rockets hit LZ, one landing in between motor pool hooch and mess hall.
Approx. 27 Mar. 69 : C-Btry. ( - ) two 8-inch guns join C/7/17th FA at LZ Action for direct fire into surrounding mountains. Previously and during stay, unit is mortared almost daily. Mechanic James Willmon is wounded per shrapnel in left leg, sent back to LZ Blackhawk.
2 Apr. 69 : C-Btry. ( - ) still at LZ Action. Author Dave Holdorf "Deros's".
April to Approx. Dec. 69 : C-btry. stayed at LZ Blackhawk. During this time, INF KIA's were reported ambushed to me via letters at "Pump Station 10" AR 939-480.
10 Nov. 69 : C-Btry. experienced another War casualty as Gun-Section Redleg Earl Thomas Pearson is disintegrated by fire when a spark hits the powder charge he was carrying to the gun pit.
---
LINKS
Maps of II Corps and the Central Highlands
7/17th Cav Regiment (AIR) - Highlands maps + photos
69th Armor Page - Clickable maps of the Highlands
1967 Base Maps: I Corps II Corps III Corps IV Corps
---
---